Energy storage is the key to cost-effective electricity distribution in rural areas
The energy revolution, the complete overhaul of energy production and consumption, is currently underway at a high speed to reduce carbon dioxide emissions and combat climate change. Efforts are being made to get rid of fossil fuels, decentralized electricity distribution is increasing and relying even more on renewable energy. Due to wind and solar energy production, weather dependence, and fluctuations in electricity consumption, customers must be allowed flexibility in their electricity consumption in the future by timing their consumption peaks smartly.
We are heavily dependent on a stable electricity grid in our daily lives and businesses, so the security of the electricity supply is vital. Security of supply depends on the reliability and stability of the transmission and distribution network. More precisely, on how well these distribution network companies are able to prepare for power outages that can last up to 6 hours in more populated areas and 36 hours in rural areas. However, in many rural areas, securing the security of supply is a challenge. In these areas, electricity distribution is traditionally provided by overhead lines, which are more susceptible to various weather phenomena. A typical way to improve supply reliability is to build underground cables, but the downside is that this method is 1.5-2 times more expensive than building an overhead line.

How to secure electricity distribution to consumers cost-effectively?
We aim to answer this question in this blog. We offer distribution companies the option to replace underground cabling in rural areas with battery energy storage systems which prove to have more benefits. In the blog, we discuss:
The cost of energy storage systems compared to underground cabling
Dynamic reactive power compensation using energy storage system
Energy storage system tasks and its response to fault situations in the distribution network
Energy revolution and automated real-time consumption flexibility
Business opportunities for energy storage systems
Is there a way to achieve the required delivery reliability more cost-effectively?
Yes, there is. Merus Power offers a cost-effective alternative to underground cabling to improve supply reliability. Merus® ESS battery energy storage system can detect an interruption in the electricity distribution in an instant. In the event of a fault, our advanced energy storage can separate the network it protects into its own island and restore the customers' voltage in a controlled and fast manner. Consumers only experience a very short interruption in their electricity supply, comparable to automatic recloser operation time.
Our energy storage allows the distribution network company time to locate and fix the fault, without the customers suffering from electricity distribution interruptions. Merus® ESS automatically synchronizes the island network with the supply network and closes the island circuit breaker when the fault in the network is repaired or isolated, and the voltage is restored. Merus® ESS is responsible for network protection both in everyday situations and island-mode operations.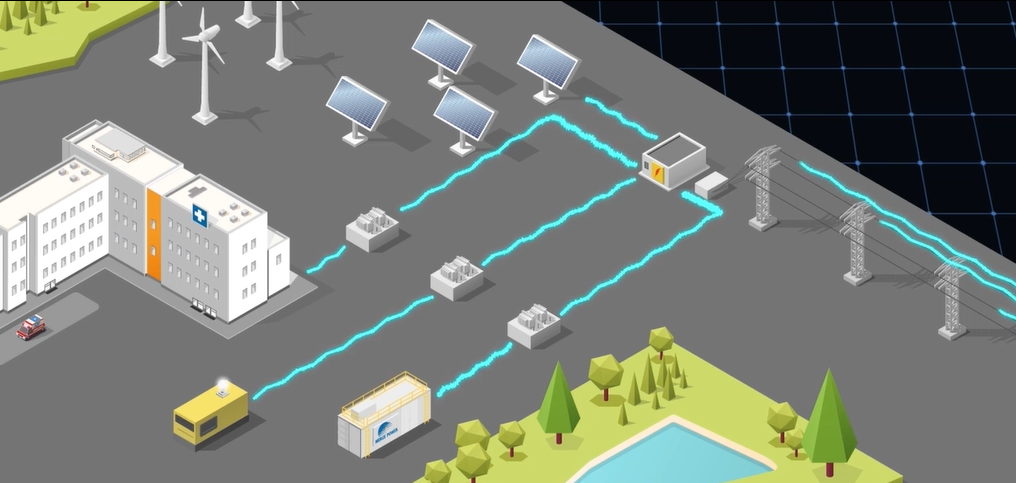 How does Merus® ESS offer cost efficiency?
An interruption or error in electricity distribution incurs costs for both the customer and the grid company. The grid company's incurred costs consist of the costs of repairing the fault, as well as the compensation paid to customers. The size of the compensations or price reductions depends on the amount of energy that was not transferred, the magnitude of the interrupted electric power, or the duration of the interruption.
It is possible to significantly reduce the costs caused by interruptions for both the grid company and the customers with the help of Merus® ESS energy storage. In the event of an interruption, the network protected by Merus® ESS can be connected to its own island, so that the faulty part of the network can be located and repaired. This shortens the time without electricity for customers and the grid company saves by not needing to pay compensation for lost electricity.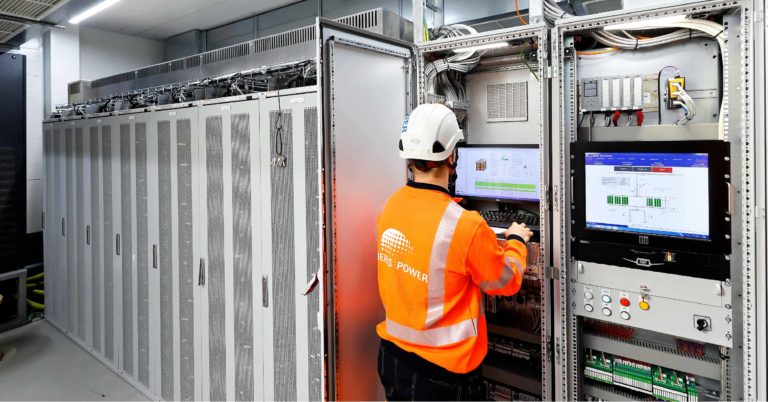 Merus® Energy Storage System is a scalable lithium-ion battery energy storage system fully designed by Merus Power.
Read more
In addition to the above-mentioned failure situations, there are also planned interruptions that are unexpected from the customer's point of view but still have an effect on the cost of everything. They often happen in situations where it is not possible to communicate about the interruption to the customer in time. It is possible to influence the costs in both planned and unplanned interruptions thanks to the fast automated solutions of Merus® ESS.
Cost efficiency also arises from the fact that there is no need for ground cabling in the area where the energy storage system secures electricity distribution. The construction of an underground cable is approximately 1.5-2 times more expensive than the construction of an overhead cable. For cost reasons alone, replacing all failure-prone overhead cables with underground cables is not possible in a short period. In sparsely populated areas, there are relatively few customers and the costs of underground cabling increase even more as distance increases. Thus, replacing overhead lines with underground cabling can be a very expensive investment with a very long payback period. Merus® ESS helps to improve supply reliability cost-effectively, as it can be used to completely replace ground cables or postpone the need for ground cabling for the future and spread the costs over a longer period of time.
Reactive power compensation with the help of energy storage
It is important to take care of reactive power compensation as society's electricity consumption and ground cabling increase. This is especially important in rural areas, where transmission distances are long. A large proportion of reactive power eats up the transmission capacity of the network and increases losses, which leads to an increase in the investments needed to oversize and build the network.
The distribution network company can compensate for reactive power close to consumption with the help of Merus® ESS battery energy storage system. This way the transmission capacity of the network can be used to transfer active power, so the network can be dimensioned more economically to correspond only to the necessary consumption without unnecessary losses. The active and reactive power of the energy storage can be controlled from zero to full capacity in less than one grid cycle, so it offers the possibility of complete real-time compensation.
How is the electrical safety of customers ensured in the event of a fault?
In the event of a distribution network failure, Merus® ESS supplies power to its customers. The fault protection of the grid and household electrical equipment is based on the fact that in a short-circuit situation, a sufficiently large short-circuit current is formed, which triggers the protective devices quickly enough. This way, the fault voltage does not get too high, so there is no danger to people from a short-circuit situation.
It is wise to wonder, that when the energy storage replaces the network, can it produce a sufficiently strong network so that the short-circuit levels in consumers' electrical installations are large enough and the protective devices operate quickly enough? This is always considered in the dimensioning of Merus® ESS energy storage system. In addition, it is ensured that sufficient converter capacity is installed so that the protection devices work even at the most remote point of the network. Merus® ESS is an ecological and, above all, safe way to ensure the electricity supply of customers in the event of a failure.
Energy revolution and automated real-time consumption flexibility
With the energy revolution, the amount of renewable energy in the electricity grid is growing rapidly. Wind and solar energy production volumes vary according to weather conditions, and electricity consumption shows variation in both households and industry. The electricity grid of the future must be able to provide more flexibility in electricity consumption. At the same time, the total consumption of electricity also increases, and the electricity grid must be able to transfer the growing power needs as well. Changes will be required from both electricity grids and consumers in the future.
Consumption variation can be implemented either through active actions or automated solutions. Merus® ESS enables automated real-time consumption flexibility without active steps of the customer or network company. This automatic consumption flexibility occurs so that during the largest consumption peaks, customers automatically get the electricity they need from the battery energy storage system, so they do not strain the national grid. Equalization of the load also significantly reduces the construction costs of the network, as it can be sized to withstand less stress.

Business opportunities for battery energy storage systems
In some countries, the Electricity Market Act imposes certain restrictions on distribution network companies. Due to this, energy storage systems cannot reach their full potential in a business model where the network company owns the energy storage and uses its properties alone only for a specific purpose. The full potential of energy storages can currently be best utilized by using it in several different sectors shared by many parties. These parties can be, for example, a distribution network company and a separate electricity market operator.
To optimize the benefits of energy storage and minimize the investments required from one operator, Merus Power has developed various earning models. A good example of such a model is a project implemented in cooperation with Elenia (a Finnish distribution network company) and Fortum (a Finnish electricity market operator).
In this innovative project and partnership, Merus Power delivered two energy storage systems to Elenia to the Pirkanmaa area of Finland. Elenia owns the network connection equipment for the solution and has purchased the batteries from Fortum as a battery capacity service. Elenia's goal in this project is to expand the usage of battery energy storage systems in sparsely populated areas in Finland as a solution that can secure electricity distribution during power outages caused by storms and snow loads, for example.
About our services in Finland
Merus® ESS energy storage offers a safe and cost-effective alternative to improve the reliability of electricity supply in rural and sparsely populated areas. The scalable and modular Merus® ESS is always manufactured according to the customer's needs as a turnkey solution. We support our customers' investments throughout their life cycle. The planning, manufacturing, and testing of our energy storage systems take place at Merus Power's own factory in Finland. Commissioning and maintenance take place at the customer's location. In addition to this, it is also possible to use our advanced Merus® Remote Control and Monitoring Services.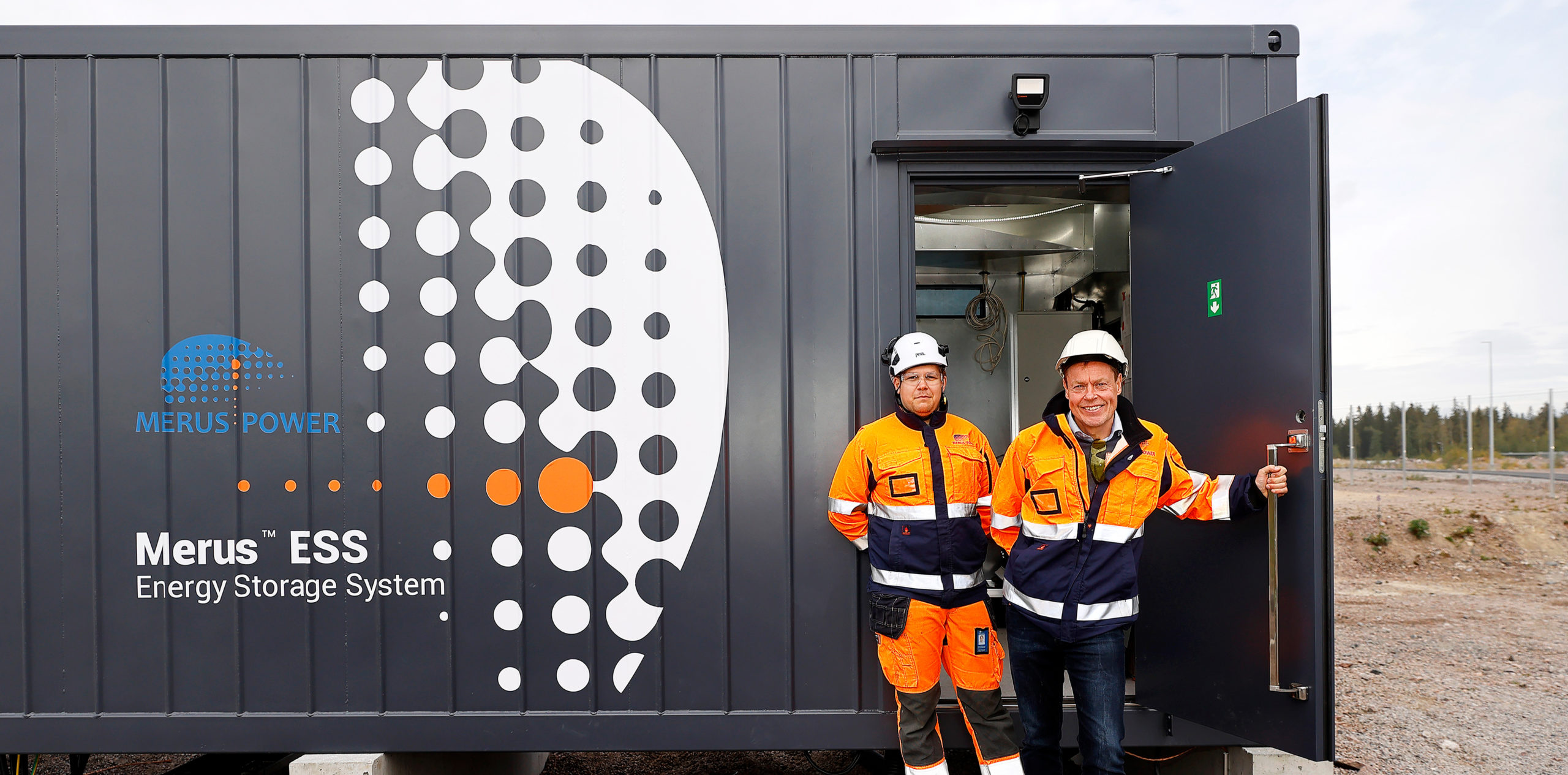 ---
In Finnish
Sähkövarasto on keino kustannustehokkaaseen sähkönjakeluun maaseutualueella
Energiamurros, eli energian tuotannon ja kulutuksen täysremontti hiilidioksidipäästöjen vähentämiseksi ja ilmastonmuutoksen torjumiseksi, on tällä hetkellä jo kovaa vauhtia käynnissä. Fossiilisista polttoaineista pyritään eroon, hajautettu sähköntuotanto lisääntyy ja se nojaa entistä enemmän uusiutuvien energiamuotojen varaan. Tuuli- ja aurinkoenergian tuotannon, sääriippuvuuden, sekä sähkönkulutuksen vaihtelun takia asiakkaiden olisi hyvä jatkossa pystyä joustamaan sähkönkulutuksessaan, ajoittamalla sähkön kulutuspiikit fiksusti.
Olemme riippuvaisia sähköstä jokapäiväisessä elämässämme ja liiketoiminnoissamme, joten sähkön toimitusvarmuus on elintärkeää. Toimitusvarmuus riippuu siirto- ja jakeluverkon luotettavuudesta ja vakaudesta – siitä, miten jakeluverkkoyhtiöt pystyvät varautumaan sähkökatkoksiin, jotka saavat kestää väestökeskuksissa pisimmillään kuusi tuntia ja maaseudulla 36 tuntia. Monilla maaseutualueilla toimitusvarmuuden turvaaminen on kuitenkin haasteellista, sillä haja-asutusalueilla sähkönjakelusta huolehditaan perinteisesti ilmajohdoilla, jotka ovat alttiita erilaisille sääilmiöille. Tyypillinen tapa parantaa toimitusvarmuutta on rakentaa maakaapeleita, mutta haittapuolena on, että kaapelointi on 1,5–2 kertaa kalliimpaa kuin ilmajohdon rakentaminen. 
Miten turvata sähkönjakelu kuluttajille kustannustehokkaasti?
Tähän pyrimme vastaamaan tässä blogissa, jossa annamme jakeluyhtiöille vaihtoehdon korvata maakaapelointi sähkövarastolla maaseutualueilla. Blogissa käsittelemme seuraavia aiheita: 
Sähkövaraston kustannukset verrattuna maakaapelointiin
Dynaaminen loistehon kompensointi sähkövaraston avulla
Sähkövaraston tehtävät ja vaste vikatilanteisiin jakeluverkossa
Energiamurros ja automatisoitu reaaliaikainen kulutusjousto
Sähkövarastojen liiketoimintamahdollisuudet
Onko olemassa keinoa saavuttaa vaadittu toimitusvarmuus kustannustehokkaammin?
Merus Power tarjoaa sähkövaraston avulla kustannustehokkaan vaihtoehdon maakaapeloinnille toimitusvarmuuden parantamiseksi. Merus® ESS sähkövarasto pystyy havaitsemaan sähkönjakelun keskeytyksen hetkessä. Vian sattuessa edistyksellinen sähkövarastomme erottaa suojaamansa verkon omaksi saarekkeekseen ja palauttaa asiakkaiden jännitteen hallitusti ja nopeasti. Kuluttajat kokevat vain hyvin lyhyen, pikajälleenkytkennän kestoon verrattavissa olevan keskeytyksen sähkönjakelussaan.
Sähkövarastomme antaa jakeluverkkoyhtiölle aikaa paikantaa ja korjata vian, ilman että asiakkaat kärsivät sähkönjakelun keskeytymisestä. Kun vika verkossa on korjattu tai eristetty, ja jännite palautettu, Merus® ESS synkronoi saarekeverkon automaattisesti syöttöverkon kanssa ja sulkee saarekkeen katkaisijan. Merus® ESS vastaa verkon suojauksesta sekä normaalissa tilanteessa, että saarekekäytössä.
Miten Merus® ESS tuo kustannustehokkuutta?
Sähkönjakelun keskeytyksestä tai virheestä aiheutuu kustannuksia sekä asiakkaalle että verkkoyhtiölle. Verkkoyhtiöille koituvat kustannukset koostuvat vikatapauksissa vian korjaamiseen kuluvista kustannuksista, sekä asiakkaille maksettavista korvauksista. Korvausten ja hinnanalennusten suuruus riippuu siirtämättä jääneen energian määrästä, keskeytyneen sähkötehon suuruudesta tai keskeytyksen kestoajasta. 
Merus® ESS sähkövaraston avulla voidaan huomattavasti vähentää verkkoyhtiölle ja asiakkaille keskeytyksestä aiheutuvia kustannuksia. Keskeytyksen sattuessa ESS:n suojaama verkko voidaan kytkeä omaksi saarekkeekseen, jolloin vikaantunut verkon osa voidaan paikantaa ja korjata. Näin asiakkaiden kokema jännitteetön aika lyhenee ja jakeluverkkoyhtiö säästää asiakkaille maksettavissa korvauksissa.  
Energiaviraston laskemiin KAH-kustannuksiin vaikuttavat edellä mainittujen vikatilanteiden lisäksi myös sellaiset suunnitellut keskeytykset, jotka ovat asiakkaan näkökulmasta odottamattomat. Ne tapahtuvat usein tilanteissa, joissa keskeytyksestä ei ehditä viestimään asiakkaalle ajoissa.  KAH-kustannuksiin on mahdollista vaikuttaa sekä suunnitelluissa, että suunnittelemattomissa keskeytyksissä Merus® ESS:n nopeiden automatisoitujen ratkaisujen ansiosta
Kustannustehokkuutta syntyy myös siitä, ettei maakaapelointia tarvita rakentaa alueelle, jossa sähkövarasto turvaa sähkönjakelua. Maakaapelin asentaminen on noin 1,5-2 kertaa kalliimpaa kuin ilmajohdon, joten pelkästään kustannussyistä kaikkien vikaantumisille alttiiden ilmajohtojen korvaaminen maakaapeleilla ei onnistu nopealla aikavälillä. Haja-asutusalueella asiakkaita on suhteessa vähän ja etäisyydet ovat pitkiä. Näin ilmajohtojen korvaaminen maakaapeloinnilla voi olla hyvin kallis investointi, jonka takaisinmaksuaika on todella pitkä. Merus® ESS auttaa parantamaan toimitusvarmuutta kustannustehokkaasti, sillä sen avulla voidaan joko, korvata maakaapelointi kokonaan tai siirtää maakaapeloinnin tarvetta tulevaisuuteen ja jaotella eri alueista syntyviä maakaapelointikustannuksia pidemmälle aikavälille.  
Loistehon kompensointi sähkövaraston avulla
Maakaapeloinnin yleistyessä ja sähkönkulutuksen kasvaessa täytyy pitää huolta loistehon kompensoinnista, erityisesti maaseudulla, jossa siirtoetäisyydet ovat pitkiä. Suuri loistehon osuus syö verkon siirtokapasiteettia kasvattaen häviöitä, mikä johtaa verkon ylimitoittamiseen ja rakentamiseen tarvittavien investointien kasvamiseen. Verkon asiakkaiden sähkölaitteet kuitenkin tarvitsevat loistehon kompensointia, jolloin sitä on järkevämpi tuottaa lähellä kulutuspistettä, kuin siirtää pitkiä matkoja verkossa.  
Merus® ESS sähkövaraston avulla jakeluverkkoyhtiö voi kompensoida loistehoa lähellä kulutusta, jolloin verkon siirtokapasiteetti voidaan käyttää pätötehon siirtämiseen. Näin verkko voidaan mitoittaa taloudellisemmin vastaamaan vain tarvittavaa kulutusta, eikä verkossa synny turhia häviöitä. Sähkövaraston pätö- ja loisteho voidaan ohjata nollasta täyteen kapasiteettiin alle yhdessä verkkojaksossa, joten se tarjoaa mahdollisuuden täysin reaaliaikaiselle kompensoinnille. 
Miten asiakkaiden sähköturvallisuus varmistetaan vikatilanteessa? 
Jakeluverkon vikatilanteessa Merus® ESS syöttää virtaa suojaamansa verkon asiakkaille. Verkon ja kotitalouksien sähkölaitteiden vikasuojaus perustuu siihen, että oikosulkutilanteessa muodostuu riittävän suuri oikosulkuvirta, joka laukaisee suojalaitteet riittävän nopeasti. Näin vikajännite ei pääse kasvamaan liian suureksi, eikä oikosulkutilanteesta synny vaaraa ihmisille.  
Merus® ESS:n korvatessa syöttävän verkon on aiheellista kysyä, kykeneekö se tuottamaan riittävän jäykän verkon, jotta oikosulkutasot kuluttajien sähköasennuksissa ovat riittävän suuria ja suojalaitteet toimivat tarpeeksi nopeasti. Tämä huomioidaan aina ESS:n mitoituksessa ja varmistetaan, että riittävästi konvertterikapasiteettia on asennettu, jotta suojalaitteet toimivat kauimmaisessakin verkon pisteessä. Merus® ESS on ekologinen ja ennen kaikkea turvallinen tapa varmistaa asiakkaiden sähkönsaanti vikatilanteessa. 
Energiamurros ja automatisoitu reaaliaikainen kulutusjousto 
Energianmurroksen myötä uusiutuvan energian määrä sähköverkossa kasvaa kovaa vauhtia. Tuuli- ja aurinkoenergian tuotantomäärät vaihtelevat sääolosuhteiden mukaan ja sähkönkulutuksessa on omat vaihtelunsa niin kotitalouksilla, kuin teollisuudessakin. Tulevaisuuden sähköverkon on kyettävä yhä paremmin joustamaan sähkönkulutuksessa. Samaan aikaan myös sähkön kokonaiskulutus kasvaa ja sähköverkon on kyettävä siirtämään myös kasvavat tehotarpeet. Tulevaisuudessa vaaditaan muutoksia niin sähköverkoilta, kuin kuluttajiltakin.
Kulutusvaihtelu voidaan toteuttaa, joko aktiivisten toimien tai automatisoitujen ratkaisujen avulla. Merus® ESS mahdollistaa automatisoidun reaaliaikaisen kulutusjouston ilman, että asiakkaan tai verkkoyhtiön tarvitsee tehdä aktiivisia toimia sen eteen. Tämä automaatinen kulutusjousto tapahtuu niin, että suurimpien kulutuspiikkien aikaan asiakkaat saavat automaattisesti tarvitsemansa sähkön sähkövarastosta, jolloin he eivät kuormita valtakunnallista verkkoa. Kuormituksen tasaantuminen laskee myös merkittävästi verkon rakentamiskustannuksia, sillä se voidaan mitoittaa kestämään pienempää rasitusta. 
Sähkövarastojen liiketoimintamahdollisuudet
Sähkömarkkinalaki asettaa jakeluverkkoyhtiöiden liiketoiminnalle tiettyjä rajoitteita, joiden takia sähkövaraston mahdollisuudet eivät pääse täysiin oikeuksiinsa sellaisessa liiketoimintamallissa, missä verkkoyhtiö omistaa sähkövaraston ja käyttää sen ominaisuuksia yksin vain johonkin tiettyyn tarkoitukseen. Sähkövarastojen täyden potentiaalin pystyy tällä hetkellä parhaiten hyödyntämään siten, että sitä käytetään useammalla eri sektorilla monen osapuolen toimesta. Näitä osapuolia voivat olla esimerkiksi jakeluverkkoyhtiö ja erillinen sähkömarkkinatoimija.
Sähkövaraston tuomien etujen optimointia ja yhdeltä toimijalta vaadittavien investointien minimointia varten Merus Power on kehittänyt erilaisia ansaintamalleja, joista hyvänä esimerkkinä on Elenian ja Fortumin kanssa yhteistyössä toteutettu hanke. Tässä hankkeessa Elenia on rakennuttanut Pirkanmaalle kaksi sähkövarastoa innovaatiokumppanuuden yhteistyönä. Sähkövarasto voidaan jakaa komponenteiksi ja komponnttien muodostamiin kokonaisuuksiin, kokonaisuudessa ne ovat yksi kokonainen pitkälle kehitetty sähkövarasto. Tässä tapauksessa Elenia omistaa sähkövarastosta verkkoliityntälaitteiston ja on samalla ostanut sähkövaraston akut omistavalta Fortumilta akkukapasiteetin palveluna. Elenian tavoitteena tässä hankkeessa on laajentaa sähkövarastojen käyttöä haja-asutusalueilla ratkaisuna, jolla voidaan turvata sähkönjakelua muun muassa myrskyjen ja lumikuormien aiheuttamissa sähkökatkoissa.
Palveluistamme Suomessa
Merus® ESS-sähkövarastot tarjoavat turvallisen ja kustannustehokkaan vaihtoehdon maaseutu- ja haja-asutusalueiden sähkön toimitusvarmuuden parantamiseksi. Skaalautuvat ja modulaariset Merus® ESS-sähkövarastot valmistetaan aina asiakkaan tarpeiden mukaan avaimet käteen -palveluna. Tuemme asiakkaitamme sähkövarastojen koko elinkaaren ajan. Sähkövarastojemme suunnittelu, valmistus ja testaus tapahtuu meillä täällä kotimaassa Merus Powerilla. Käyttöönotto ja huolto tapahtuu asiakkaan luona ja tämän lisäksi voimme hyödyntää myös edistyksellistä Merus® etävalvonta- ja monitorointiohjelmistoa.