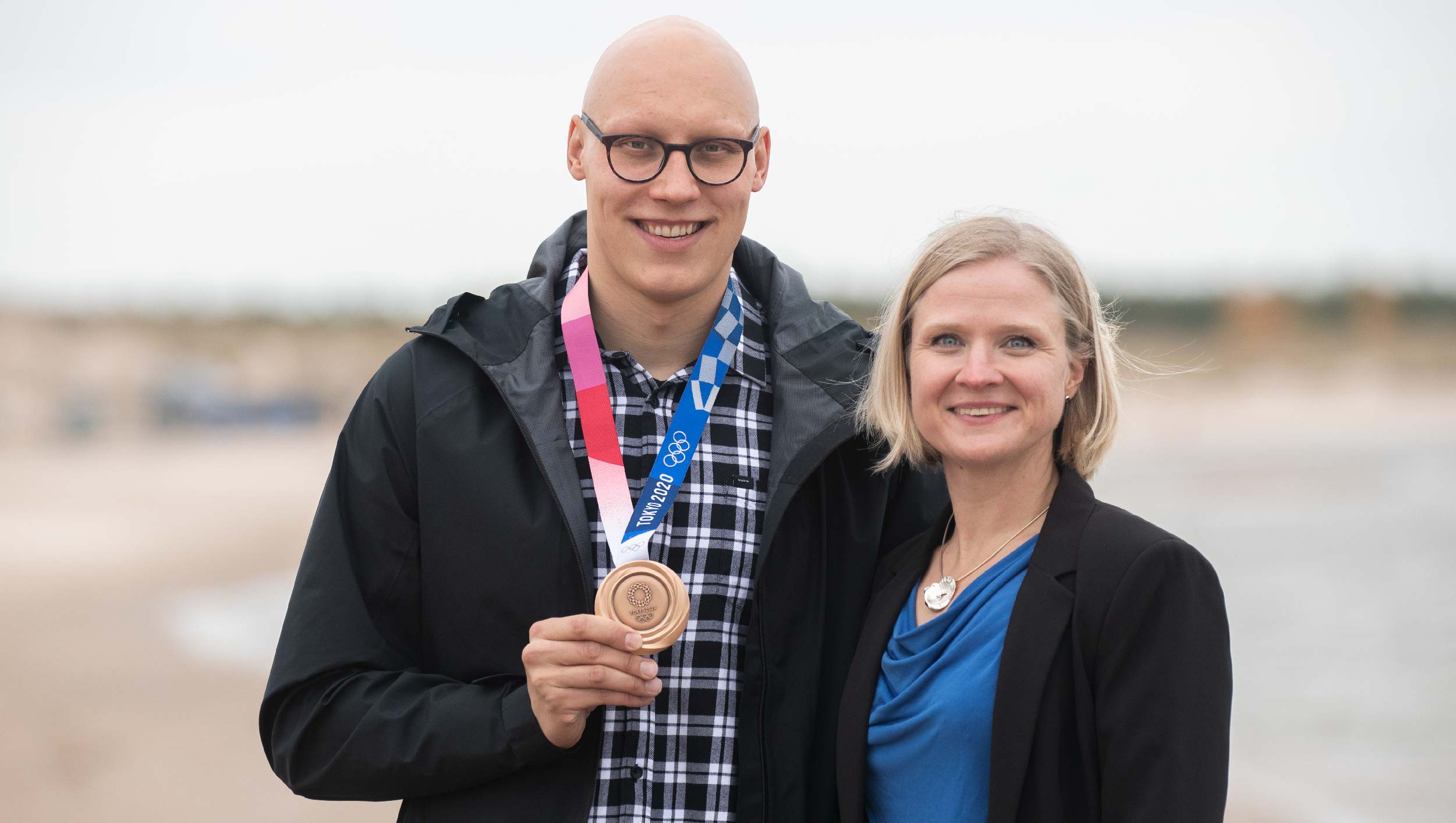 Merus Power congratulates Finnish Sports Personality of the Year 2021 and Olympic medalist in Men's 200m breaststroke Matti Mattsson
Matti Mattsson is a Finnish swimmer and Olympic medalist with several achievements in both Finland and abroad. In men's 200m breaststroke, he won the Olympic bronze in the 2021 Tokyo Summer Olympics and the World Championship bronze in 2013 in Barcelona. Matti won his first Finnish championship medal at the age of 15.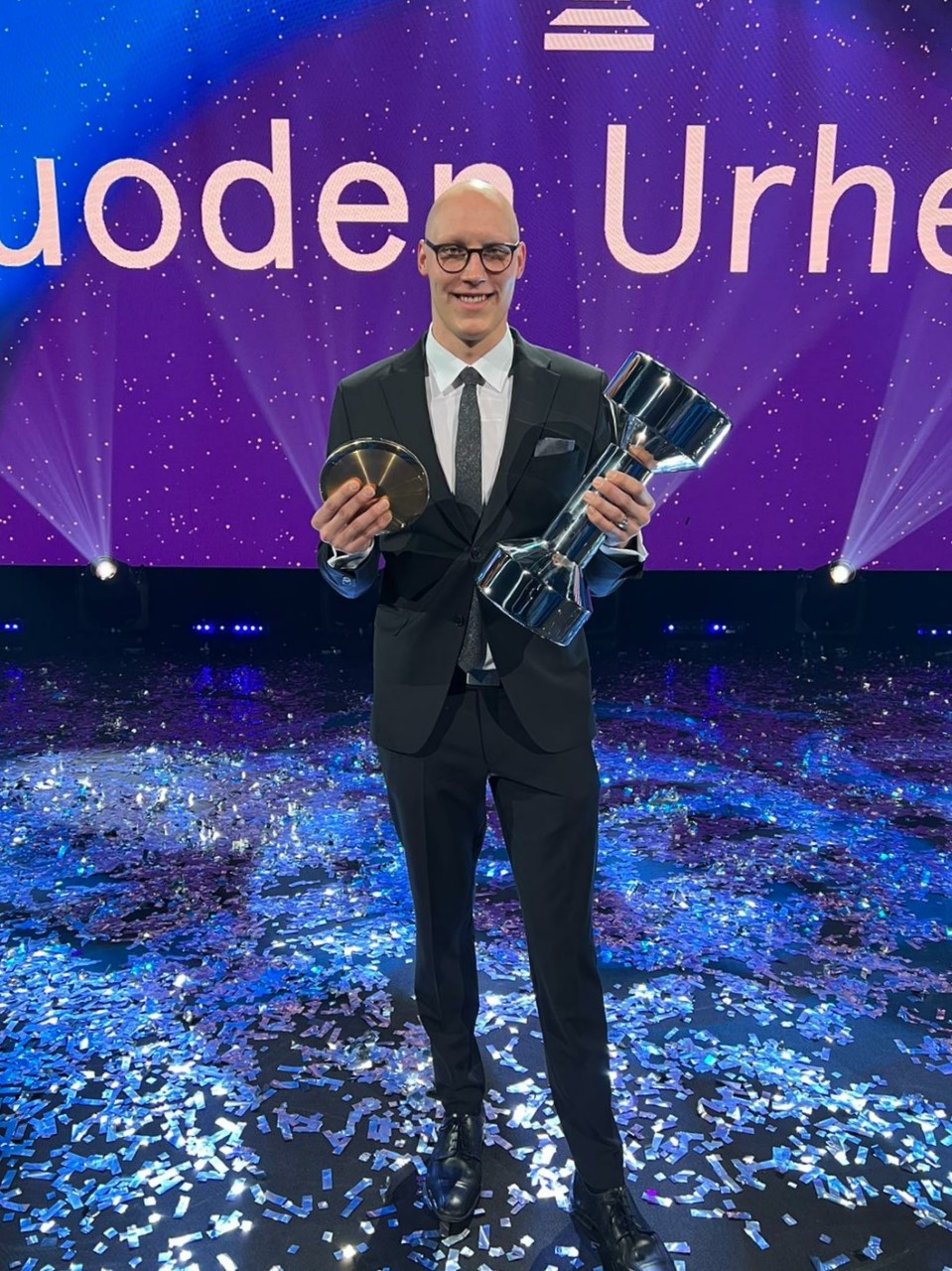 Life as an athlete and the journey to achievement is never easy. We have the privilege to follow Matti pursuing his dreams in sports with persistence, perseverance, and faith in the future. During his long career of swimming, Matti also faced challenges that he managed to overcome and become an even better swimmer and athlete.
Matti's family is important for him, giving meaning to his life, bringing him peace, and strengthening his mind. As an athlete, Matti values quality and enjoys quality work, he is also able to be fully present in the moment. When focusing on swimming a 200m breaststroke as fast as possible, his mantra is "there and back, there and back".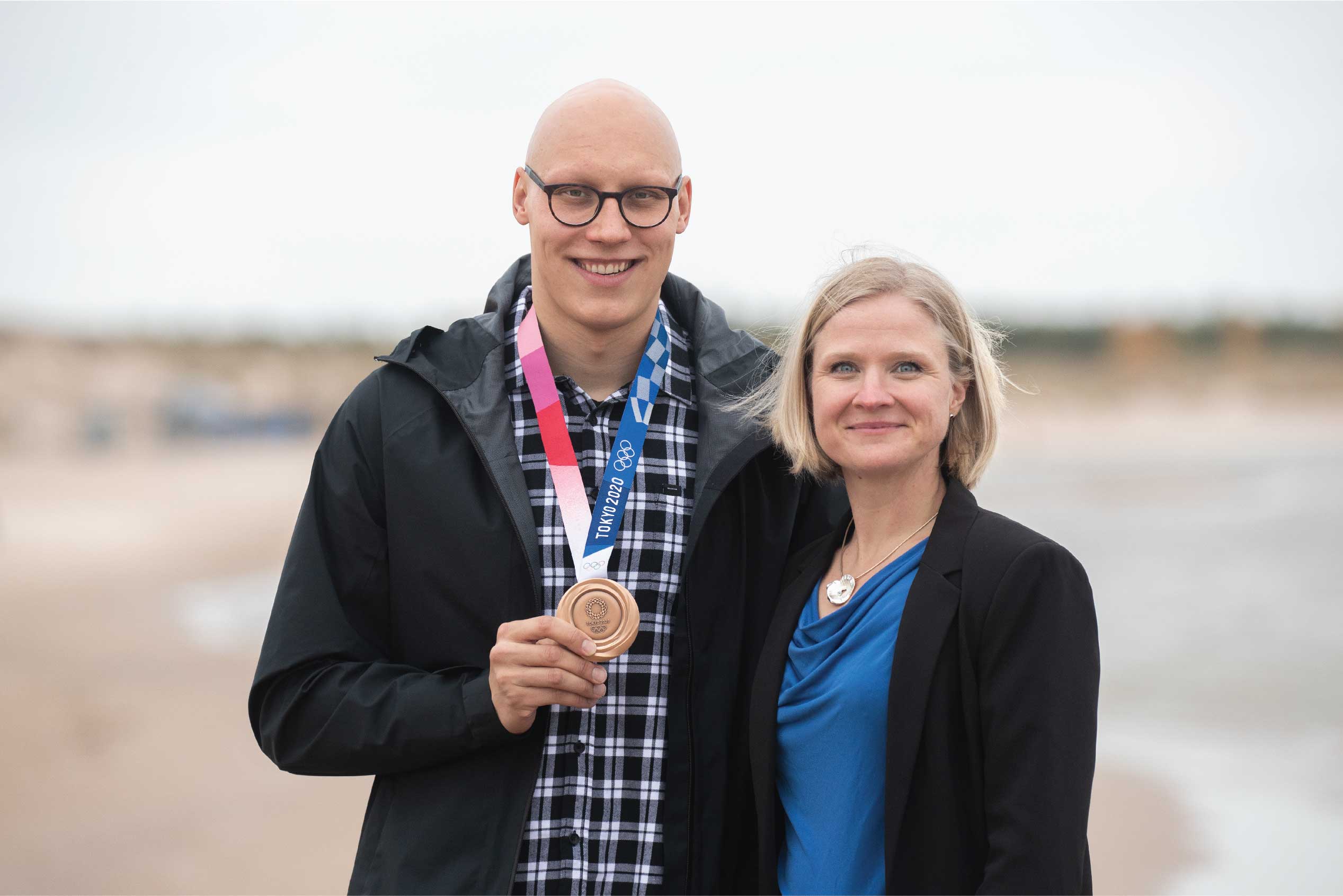 Matti Mattsson and Jonna Kannosto, Marketing and Communications Director of Merus Power
Photo: Tomi Glad
Merus Power has been supporting Matti Mattsson's journey as an athlete toward the 2024 Paris Olympics since the fall of 2021. We wish Matti, his family, and his whole team a tremendous amount of good luck!
---
In Finnish
Merus Power onnittelee Vuoden Urheilijaa 2021 ja rintauinnin 200 m olympiamitalistia Matti Mattssonia
Matti Mattsson on suomalainen uimari ja olympiamitalisti, jolla on useita hienoja saavutuksia vuosien varrelta, niin kotimaan altaissa kuin ulkomaillakin. 200 m rintauinnissa hän on voittanut hienolla uinnillaan olympiapronssin Tokion 2021 olympialaisissa ja MM-pronssia vuonna 2013 Barcelonan kisoissa. Ensimmäisen suomenmestaruustason mitalin Matti sai jo 15-vuotiaana.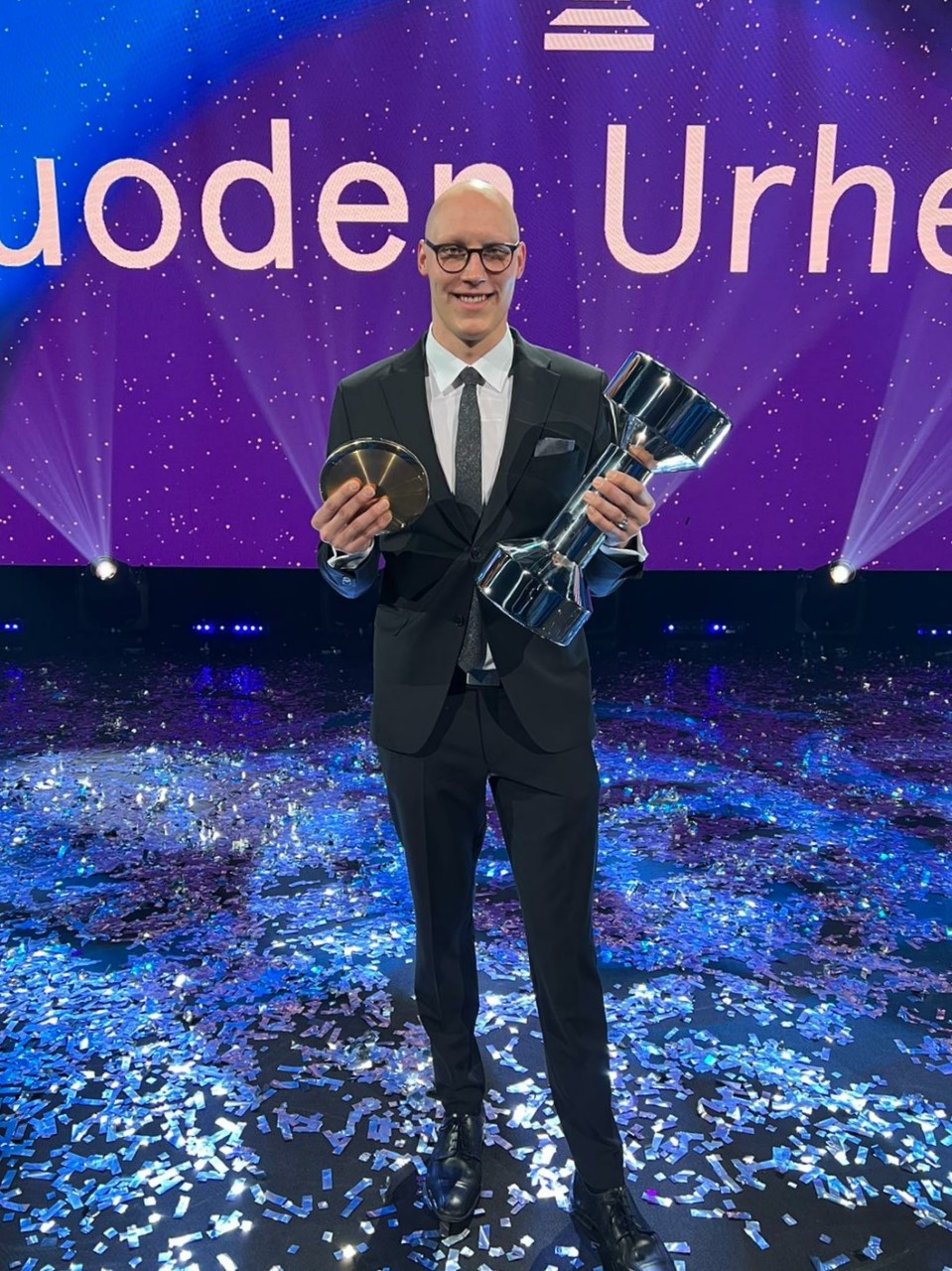 Urheilijan matka saavutuksiin ei ole aina helppo. Arvostamme Matin periksiantamattomuutta, sinnikkyyttä ja uskoa tulevaan. Näiden ominaisuuksien tuloksia olemme saaneet ilolla seurata vuosien varrella hänen tavoitellessaan unelmiaan. Pitkän uransa aikana Matti on saavuttanut paljon mutta kohdannut myös vastoinkäymisiä, joista huolimatta hän on onnistunut kehittymään uuteen huipputasoonsa.
Matille perhe on tärkein. Oma perhe antaa hänen elämälleen merkityksen, tuo rauhaa ja mielen vahvuutta. Urheilijana Matti arvostaa laatua ja laadukasta tekemistä sekä osaa olla 100% läsnä hetkessä. Kun Matti keskittyy uimaan 200 m matkan maailmanluokan kovinta vauhtia, hänen mantransa on "tonne ja takaisin, tonne ja takaisin".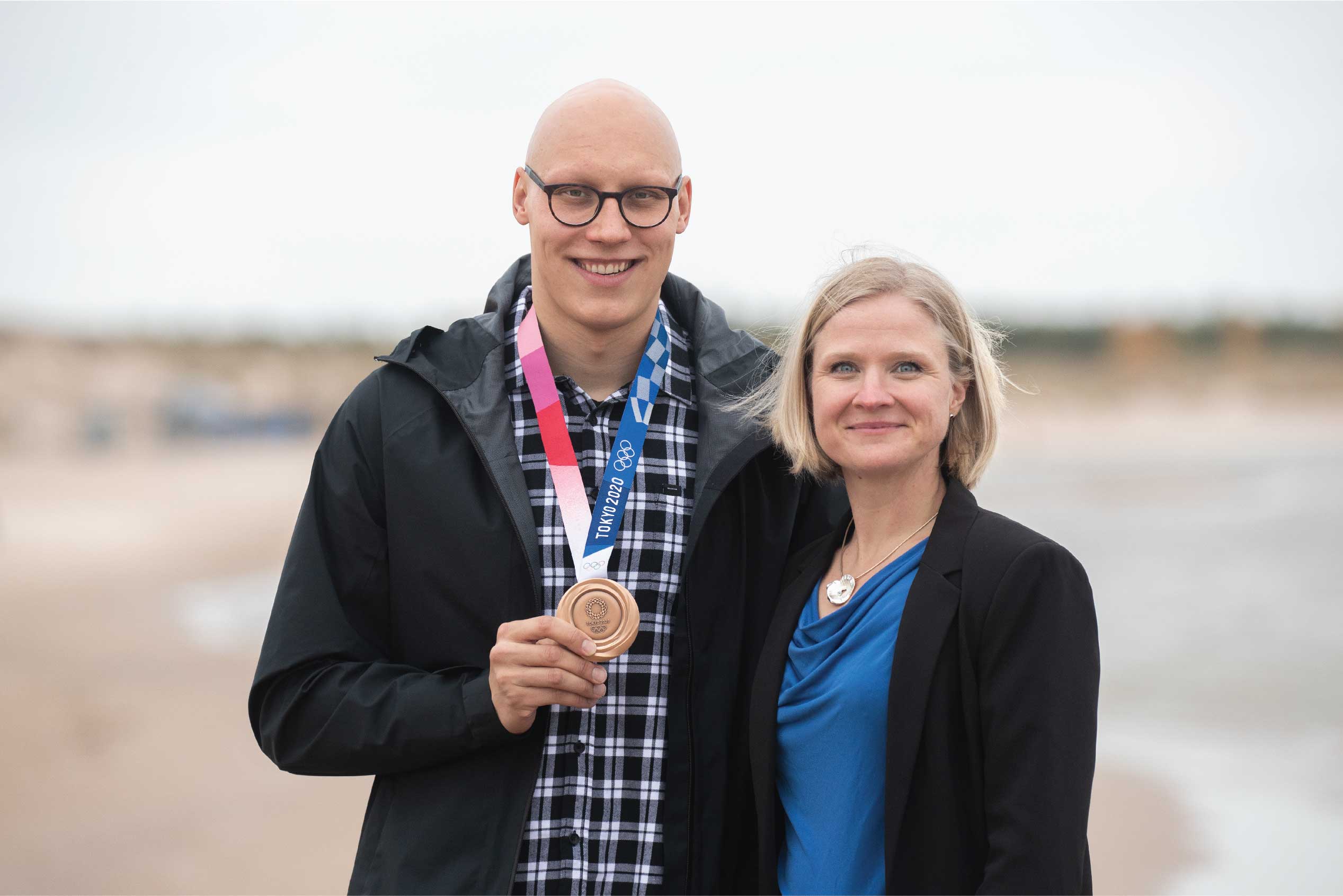 Matti Mattsson ja Merus Powerin markkinointi- ja viestintäjohtaja Jonna Kannosto
Kuva: Tomi Glad
Syksystä 2021 alkaen Merus Power on ollut tukemassa Matti Mattssonin matkaa urheilijana kohti Pariisin vuoden 2024 olympialaisia. Toivotamme Matille, perheelle ja valmennustiimille onnea matkaan!