Solving industry woes: Introducing Merus® 4DRIVES
Have you ever been faced with unexplained equipment malfunctions, insufficient power supply, or frustrating unplanned stops in your industrial operations? Are you worried about complying with the stringent power quality regulations in your industry? If you want to prioritize safeguarding your machinery from unnecessary damage, we have fantastic news for you!
Introducing Merus® 4DRIVES – the cutting-edge active harmonic filtering solution specially designed to solve these very problems. At Merus Power, we understand the challenges faced by industries using Variable Frequency Drives (VFD) in their processes, such as water and wastewater treatment, data centers, pulp and paper industry, buildings, and more.
A reliable solution to take care of your power quality needs
Our tailored, compact, and robust Merus® 4DRIVES solution caters to your unique needs. VFD technology has become integral to modern industrial processes, but it comes with its fair share of issues. Harmonic distortions can wreak havoc on equipment, leading to inefficiencies, overheating, and even costly breakdowns.
With Merus® 4DRIVES, you get a reliable solution that not only tackles harmonic distortions but also ensures seamless integration into both new and existing facilities. Our easy-to-install and modular system is scalable, allowing you to expand your operations effortlessly. Whether you're planning for a new facility or considering retrofitting your existing setup, Merus® 4DRIVES has you covered.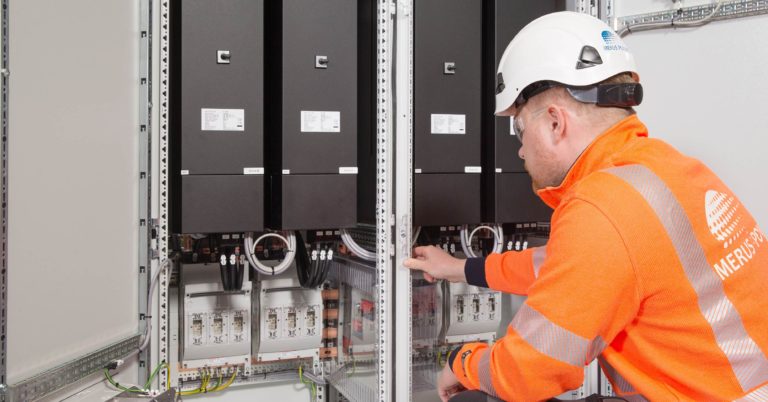 Merus® 4DRIVES is an optimized active harmonic filter for Variable Frequency Drives (VFD). It is our simple solution to complex power quality problems.
Read more
Say hello to reduced energy costs
One of the key advantages of Merus® 4DRIVES is its potential to increase the energy efficiency of the entire system. By effectively managing harmonic distortions, you'll experience reduced energy costs, positively impacting your bottom line. Moreover, our innovative design allows for a more compact footprint, maximizing the utilization of your valuable space.
We understand that industrial operations can be complex. Lost production lowers overall profitability and downtime is not an option in mission-critical operations. That's why our Merus® 4DRIVES solution offers reliability and dependability, ensuring smooth and uninterrupted processes. Say goodbye to the hassle of constant troubleshooting and maintenance.
Seamless integration with expert help
At Merus Power, we take pride in our system integration capabilities, which means seamless integration of Merus® 4DRIVES into your existing setup without disrupting your operations. Our team of experts will work closely with you to tailor the solution to your specific requirements, making the entire process a breeze. Don't let power quality issues hinder your productivity and profitability. Embrace the future of industrial power management with Merus® 4DRIVES!
Visit our website to learn more about how our active harmonic filter can transform your operations.
Upgrade your power quality game today with Merus® 4DRIVES and experience the difference it can make for your industry! Trust in our expertise and let us help you unlock new levels of efficiency, reliability, and success. Together, we'll power a better tomorrow.
---