Merus® 4DRIVES vs. Active Front End Drives: The power quality showdown
In the realm of power quality solutions, choosing the right technology can make all the difference. If you're interested in understanding the advantages of Merus Power's Active Harmonic Filters compared to Active Front End (AFE) Drive technology, you're in for a treat. Discover why our Merus® 4DRIVES offers a superior harmonic solution, tailor-made to meet your specific needs.
At Merus Power, we believe in delivering power-quality solutions that go above and beyond. With Merus® 4DRIVES, we offer highly customizable options and advanced capabilities, making it a top choice for industries seeking efficient and sustainable power quality management.
AFE drives vs. active harmonic filter: The dilemma
When exploring active alternatives for harmonic solutions for Variable Frequency Drive (VFD) applications, two options often come to the forefront – AFE drives and active harmonic filters. However, choosing the right technology can significantly impact your operations, costs, and overall power quality.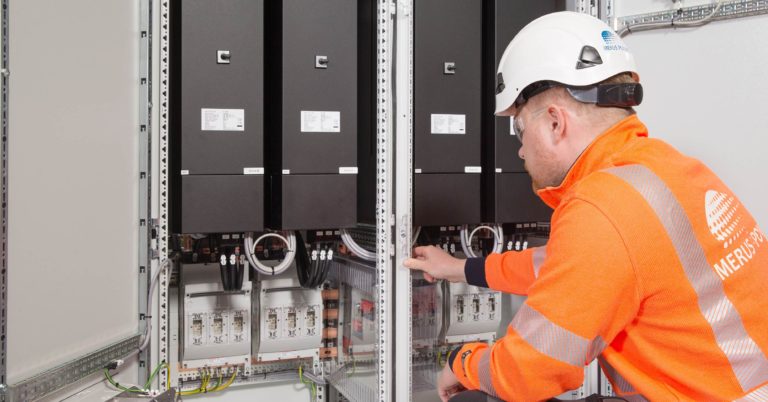 Merus® 4DRIVES is an optimized active harmonic filter for Variable Frequency Drives (VFD). It is our simple solution to complex power quality problems.
Read more
AFE drives: Complexity and risks
When opting for AFE drive technology, each motor is controlled by a drive with a combination of IGBT rectifier, IGBT inverter, and LCL (inductor-capacitor-inductor) filter. Although major drive manufacturers may offer AFE drive as quite a compact package, it essentially is a double drive construction with a larger footprint in comparison to a standard six-pulse drive.
This translates to a more complex design and installation process and involves a larger number of components, inevitably leading to an increased risk of hardware failure. The consequences? Escalating costs, downtime, and added risk to your operations.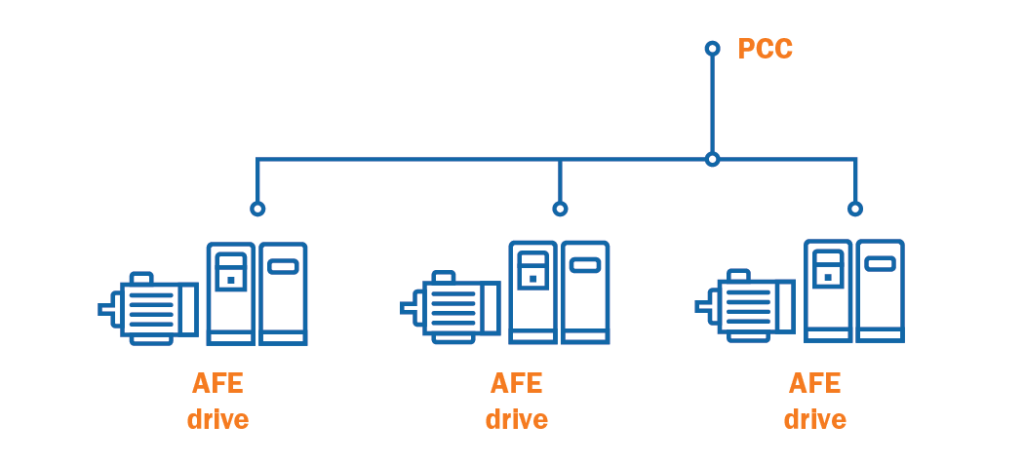 Merus® 4DRIVES: Efficiency and Reliability
On the other hand, Merus® 4DRIVES follows a different path. It is always installed in parallel with the loads and sized according to your specific needs. It stands as a compact and effective solution, boasting higher system redundancy. This parallel installation ensures reliability for your process. In the event of an active harmonic filter fault or failure, harmonic mitigation may cease, but VFD-controlled motors and the manufacturing process will not stop – unlike with AFE technology. Additionally, the smaller size of Merus® 4DRIVES not only saves valuable space but also results in lower losses, making it the sustainable choice for power quality management.
Tailored to efficiency: The advantages of Merus® 4DRIVES
With Merus® 4DRIVES, customization is the key to success. We understand that each industry and application has unique power quality requirements. Thus, our solution is designed to be tailored precisely to your needs, ensuring maximum efficiency and optimization.
When it comes to selecting your harmonic solution, it's essential to prioritize uptime, cost-efficiency, and space-saving. Merus® 4DRIVES checks all these boxes with finesse, providing you with a reliable and robust power quality management system.
Conclusion: empower your operations with Merus® 4DRIVES
In the power quality showdown between Merus® 4DRIVES and Active Front End Drive technology, Merus® 4DRIVES emerges as the solution with the most benefits. Our active harmonic filters offer unmatched efficiency, reliability, and customization, making them the ideal choice for a wide range of industries and applications. Merus® 4DRIVES is a superior choice, especially for multiple motor applications, where one active harmonic filter can handle multiple loads.
Don't settle for less when it comes to power quality management. Embrace the superiority of Merus® 4DRIVES, and witness your operations thrive with increased uptime, reduced costs, and sustainable energy solutions.
Visit our website to explore the full potential of Merus® 4DRIVES and take the first step towards elevating your power quality game. Let Merus Power be your partner in building a more efficient and sustainable future for your industry.
---