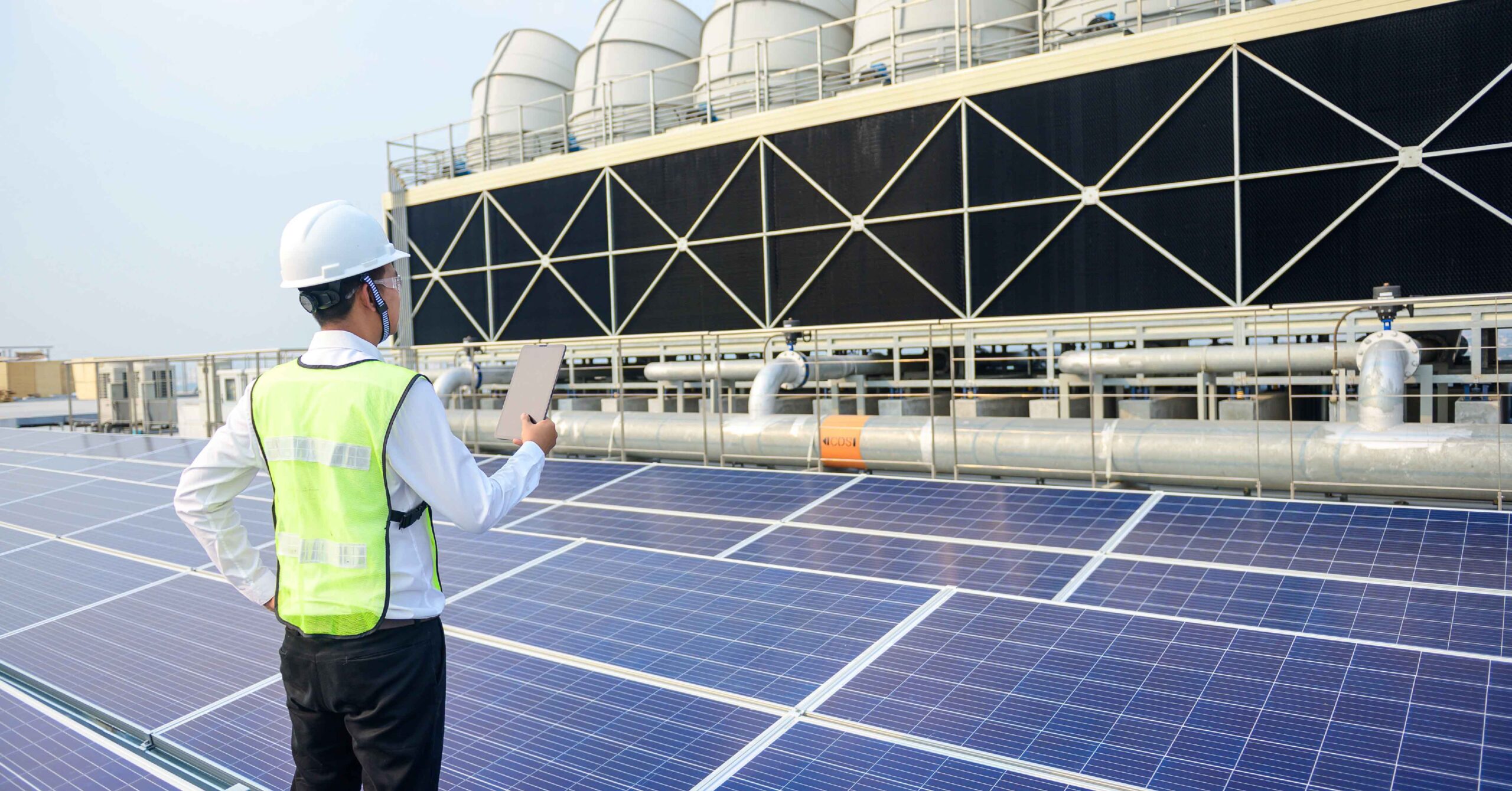 Merus™ Hybrid Power Quality (HPQ) solution with solar power production
Merus™ HPQ solves power quality issues in an automobile gear factory in China
A Chinese automobile gear factory's feeder was suffering from issues related to poor power quality and poor power factor. There were significant harmonic currents in the feeder as well. A solar power system is deployed to provide clean energy to the power system of the factory, but it just further aggravates the power quality problem of the supply system.
The power quality measurement was carried out on the site and based on those measurements it was decided to install a new hybrid system to get rid of the power quality problems and fulfill standard requirements. The Merus™ HPQ solution was suggested.
Read our full detailed case study here.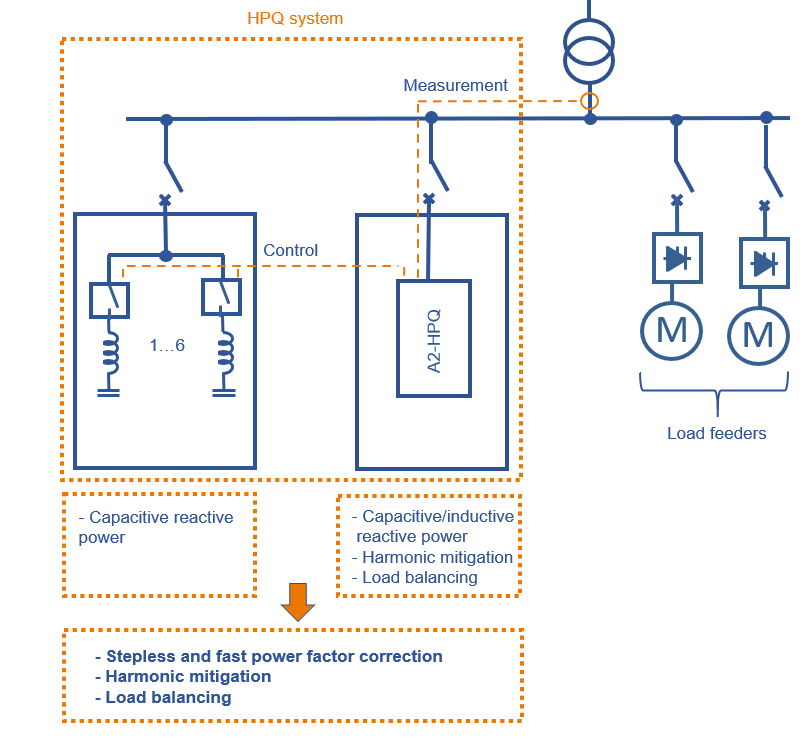 Schematic illustration of the Merus™ HPQ solution
The Merus™ Hybrid Power Quality (HPQ) solution is a combination of two traditional technologies: a detuned capacitor bank and a modern Merus™ A2-Active Harmonic Filter in an all-in-one solution. This results in better performance than traditional capacitor banks and can be more economical than a standard active filter installation. This single control system provides a complete power quality solution that is fully programmable to provide dynamic reactive power compensation and harmonic mitigation.
The Merus™ HPQ is the perfect solution to replace old capacitor banks with economical and reliable 21st century technology.
Advantages of the Merus™ HPQ solution:
Reliable all-in-one solution: one control system and one HMI

Reactive power compensation
Harmonic mitigation
Unbalance correction

Easy to use

Single control system ensures stable solution
No additional APFR (Auto Power Factor Regulator) is needed

Dynamic and stepless response
Increased lifetime of the capacitors
Small footprint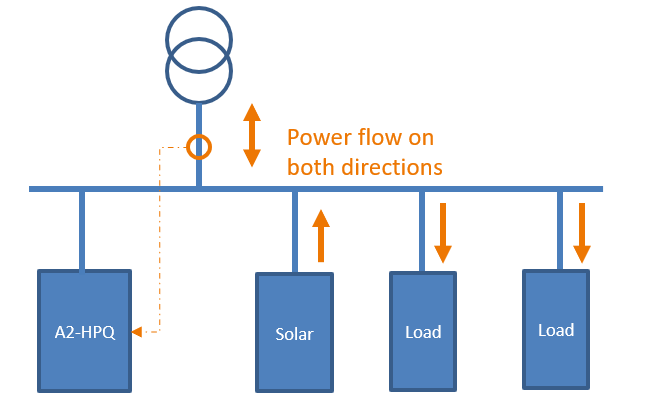 Simplified single line diagram (SLD) of the installation
The feeder's state before and after the improvement:
Power factor increased from 0.4ind to 0.95ind
THDi reduced from 40% to <10%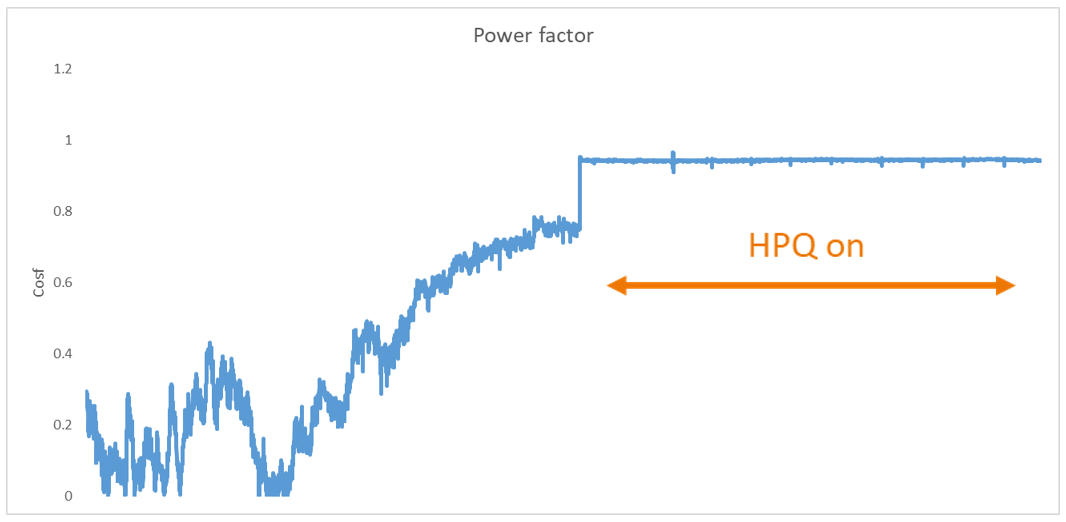 3-phase power factor with and without the Merus™ HPQ
Merus™ HPQ provides several benefits to the automobile gear factory:
Reduced reactive power
Reduced harmonics
Voltage stabilization
Improved voltage drop
Increased equipment lifetime
Download our case study here.
The power quality in the feeder has been improved after the Merus™ HPQ installation. The stability of the electrical system and the lifetime of equipment increased and the system is now compatible with power quality standards. The Merus™ HPQ system provides an overall power quality solution for renewable energy system applications.
Learn more about the Merus™ HPQ solution
Want to hear even more? Sign up to our newsletter!