Enabling the operation of DC Electric Arc Furnace on a weak islanded grid
The steel plant presented here produces steel through a scrap route with DC Electric Arc Furnace (EAF). The capacity of the furnace is 50-ton fed via a furnace transformer of 38MVA with a rectifier circuit. The plant is supplied through two power sources, i.e., a public network and independent gas turbines of their own. Apart from the Electric Arc Furnace and Ladle Furnace, the plant also has auxiliary loads like a caster, rolling mill, and oxygen plant. However, the plant's EAF caused a variety of power quality problems that challenged the plant's efficient operations. Merus Power provided a solution for this with Merus® STATCOM.
Challenges in the customer's steel plant
The steel plant is connected to the public network which was quite weak with a fault level of less than 1000MVA and high voltage THD with a maximum value of 7.7%. In addition, the dynamic operation of the arc furnace caused voltage instability, rapid reactive power fluctuations, and high THD which makes the public network weaker and more unsuitable for commercial application.
Furthermore, plant auxiliary loads like the rolling mill and oxygen plant were severely affected by the operation of the DC Arc furnace. Voltage instability also affected the ladle furnace operation, thereby affecting the quality of steel due to unstable arc length.
Solutions that we found for the customer
Merus Power delivered a 45 MVAr Merus® STATCOM system as a turnkey project. Merus Power's scope of delivery included STATCOM modules, a control and protection system, a cooling system, a filter capacitor bank, filter reactors, and complete engineering.
Total compensation ranges from -3 MVAr (inductive) to +45 MVAr (capacitive), divided between dynamic and static compensation. ± 24 MVAr of active compensation was provided by 12 pcs of Merus® M2000 STATCOM modules whereas the 21 MVAr consist of capacitor banks tuned at 5th and 7th harmonic frequency.
Results and customer benefits
Merus® STATCOM system was connected to the medium voltage 33 kV busbar. As per the post-commissioning report, Merus® STATCOM reduced the voltage THD significantly and the fundamental reactive power to approximately 0 MVAr with a power factor close to 1.0. The real-time response of Merus® STATCOM not only met the dynamic demand created by the DC Arc Furnace operation efficiently but also reduced the harmonic distortions significantly.
Segment / Application
Metallurgical industry, steel plant with DC Electric Arc Furnace
Location
Africa
Power quality issue
High voltage THD
Reactive power fluctuations
Voltage instability
Harmonic distortions
Merus® Solution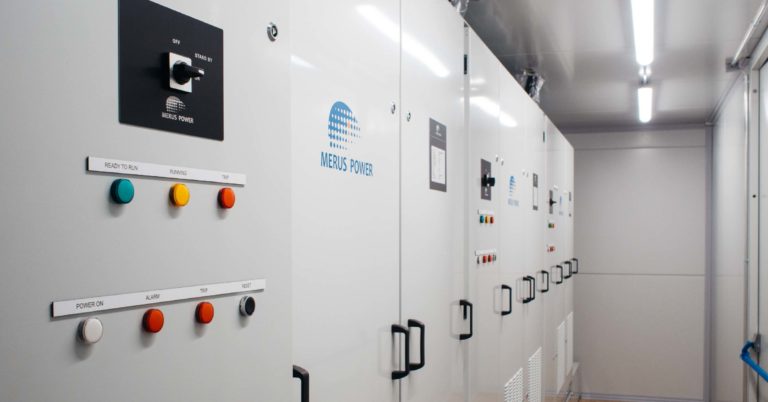 Merus® STATCOM is a modular and modern Static Synchronous Compensator for demanding applications and heavy industrial loads.
Read more
Customer Benefits
Enabling the EAF operation on weak islanded grid
Flicker mitigation
Stable Voltage
Improved Power Factor
Reduced Harmonics
Longer service life of equipment
Increased productivity of the steel plant
---
Do you have any questions?
Please contact one of our salespeople with questions and inquiries.