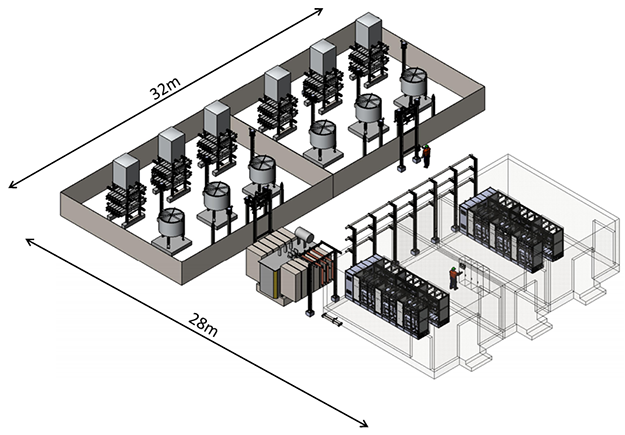 Merus Power to deliver 48 MVAr STATCOM to Standard Metallurgical Company Ltd. (SMC) in Nigeria
Merus Power and Standard Metallurgical Company (SMC) signed a contract of a STATCOM system delivery to SMC's steel plant in Sagamu, Nigeria. SMC has made the investment as a part of its major investment program to increase its production capacity, energy efficiency and both production reliability and quality. Merus Power closed the contract with SMC as a winner in a tough international competition including major international players in the market.
"SMC selected Merus Power, because of its reputation, performance and engineering capability that can meet our specific system requirements in steel manufacturing", says Mr. Mohammad Saade, one of the shareholders and the Managing Director of SMC. The steel plant has a power plant of its own and operates its EAF (Electrical Arc Furnace) and melting operation on an island power network. This determines extremely demanding dynamic performance and reliability requirements that Merus Power STATCOM system can fulfill.
Merus Power STATCOM has modular structure that makes it robust and redundant. This design architecture also allows easy maintenance and flexibility for future expansion needs. Very fast response time is Merus Power STATCOMs key qualities, which is extremely important with fast fluctuating difficult loads such as arc furnaces. Applications where steel plants operate large ARC-furnaces off-grid in island mode are very rare in the whole world and only the best technology available can make steel manufacturing possible without connection to power grid.
"Merus Power technical solution was tailored to meet with the SMC's technical and commercial requirements that turned out to be a winning concept in competition. Performance and capability to convert customer requirements into technical solutions also guarantees the payback to SMC in higher production volumes, reliability of operation and lower energy cost", says Aki Leinonen Sales Director from Merus Power.
The project kick-off meeting took place in Lagos, Nigeria on 11th of April 2016 and shipping of the STATCOM is scheduled in November 2016. Fast track project is managed by Merus Power. System is manufactured and factory tested in Merus Power factory in Nokia, Finland and will be commissioned and taken into use early 2017.
The steel plant when in full operation will use gas as main fuel in power generation and has modern steel making equipment. With Merus Power STATCOM technology the efficiency of production and the energy consumed per ton of steel produced can be minimized and it results also cost savings and reduction of CO2 and environmental impact.
Merus Power solutions improve energy efficiency in steelmaking and increase capacity of the factory by reducing the melting time. In addition to that systems enable connection to power grids according to the grid requirements and ensure proper operation of energy system in an island mode operation.
In addition to steel making, the company has been successful in mining applications, water treatment and other industrial applications where variable speed drives are getting more common and power quality is being emphasized more and more. Merus Power has delivered its solutions now to more than 30 countries and established its position in the power quality market as preferred supplier.
Additional information www.meruspower.fi, Kari Tuomala, Managing Director +358 20 7354320, +358 20 7354321.