Merus™ Active Harmonic Filters for printing machines – bring benefits and save money
Power quality and energy efficiency are key areas at printing facilities.
Through the implementation of power quality improvement solutions, it is possible to gain substation financial and energy savings while improving the printing processes.
Printing processes require extremely precise, continuously operating printing machines. Power quality problems like high levels of harmonic distortion, voltage sags and interruptions can be devastating, leading to costly production downtime, material scrap, equipment damage, and ultimately lost profits. Another power quality problem that usually affects these installations is low power factor, that increases the losses of the installation and the energy costs.
If you cannot or want to enlarge your transformer size
A printing facility in Australia installed a new, large printing machine. They could not operate that device on the regular electrical grid due to the small transformer size of the facility. They installed diesel generators to power the printing line, which means having a rather low short circuit level thus there was a high network impedance. The printing machine and generator combination was not able to work continuously because the printing machine's electrical drives kept on tripping due to high harmonics level. The economic losses caused by each trip were significant and therefore the customer needed to secure the operations and maintain the quality and integrity of the printing process.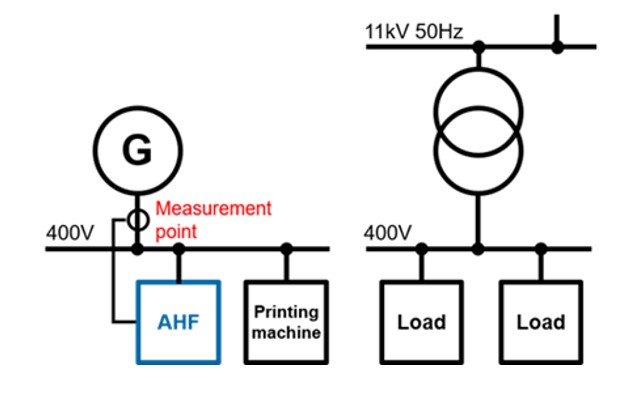 Picture of the proposed solution at the Australian printing facility:
installation of Merus™ Active Harmonic Filter
The customer set a target to reduce the THDi and THDv of the whole installation under 5%. To be able to dimension a solution it was necessary to collect power quality measurement data from the printing machine over a period of time by using a power quality analyzer. Because of the nature of the loads and the application, conventional solutions like passive harmonic filters or capacitor banks were not an option. Based on the analysis of the power quality measurements, the Merus™ Active Harmonic Filter (AHF) with 100A was selected and installed on the feeder of the printing machine.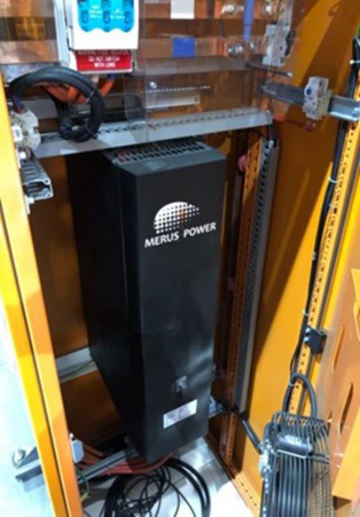 Merus™ AHF, 400V 50Hz 100A at the Australian printing facility
The installation of the Merus™ Active Harmonic Filter reduced the harmonics in the printing facility bringing several benefits:
Compliance with the harmonic distortion limits of the Australian Electricity Distribution Code that recommends that THDi and THDv should be 5% or below.
Reduced harmonic losses.
Electrical equipment lifetime increased.
Economic losses related to faulty operation of printing machines and damage caused to electronic equipment avoided.
Harmonic reduction:
Harmonics THDi reduced from 26.4% to 4.7%
Harmonics THDv reduced from 10.7% to 3%
Click here to read more from our detailed Case study.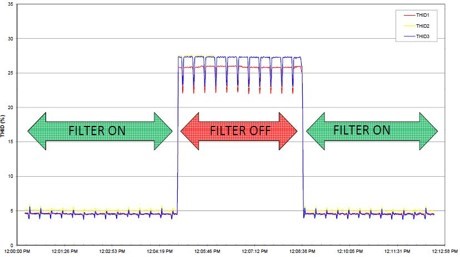 THDi (%)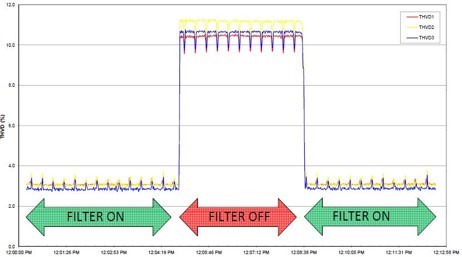 THDv (%)
Rise of nonlinear and other challenging loads in electric power systems present unique power quality challenges. Merus™ Active Power Filters provide a quick and effective response to power system disturbances enabling longer equipment life, higher process reliability and reduced energy losses, complying with most demanding power quality standards and grid codes.
Download our detailed case study here.
Active harmonic filters eliminate waveform distortions from the loads like harmonics, interharmonics and notching, by injecting in real-time in the electric power system the distorted current of same magnitude but opposite in phase. In addition, active harmonic filters can take care of several other power quality problems and grid ancillary services by combining different functions in a single device. Some of them are:
Elimination of harmonics and interharmonics
Power factor correction (lagging and leading)
Reduction of voltage variations (sags and swells)
Mitigation of voltage fluctuations (flicker)
Load balancing in three-phase systems
Controlled and selectable harmonic generation
Learn more about Merus™ Active Harmonic Filters
Want to hear even more? Sign up to our newsletter!