Merus Power modernizes the compensator system of the Electric Arc Furnace at Ovako Imatra's steel plant in Finland
Merus Power supplies an 70 Mvar Static Var Compensator (Merus® SVC) modernization for Ovako Imatra's steel plant in Imatra, Finland. The scope of supply includes the modernization of all controllable components. This includes thyristor valves, control systems, cooling equipment, spare parts, and a comprehensive installation service. The project will be carried out during the plant's annual maintenance shutdown in the summer of 2024.
Ovako is known as a leading European manufacturer of structural steel for mechanical engineering, emphasizes the importance of the company's sustainability and quality. Their strategy is to offer their customers customized and sustainability-based solutions. At the steel plant in Imatra, technically high-level steel is produced for demanding applications in the automotive and engineering industries, among others.
Modernization is a cost-effective way to significantly extend the lifetime of the existing SVC system, allowing the infrastructure and passive components of the old system to continue to be utilized. The SVC to be modernized compensates for voltage fluctuations in the Electric Arc Furnace (EAF) and ensures appropriate power quality at the high-voltage connection point of the steel plant. The compensator reduces the reactive power and the disturbance to the grid caused by the EAF while optimizing the operation of the furnace. The steel sector consumes a significant amount of energy. Enhancing power quality and investing in energy-efficient solutions can lower the electricity consumption required for production or produce more with the same amount of energy.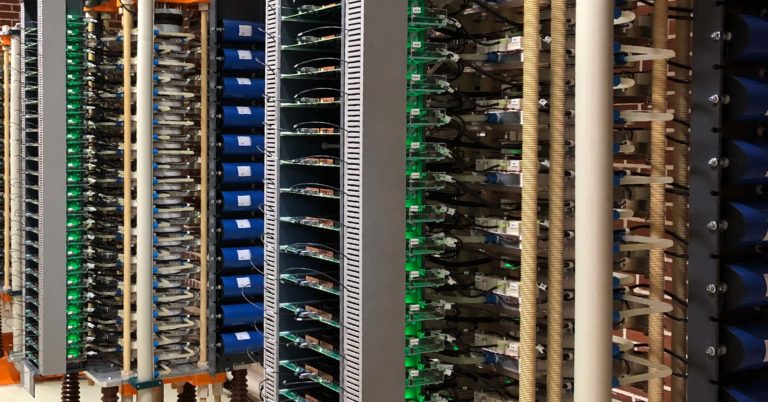 Merus® SVC is a cost-effective Static Var Compensator solution with fast reactive power compensation for higher-power-class applications.
Read more
"At Ovako, we want to continuously improve the environmental friendliness and energy efficiency of our production. We already use fossil-free electricity, and our main raw material is iron scrap instead of iron ore. By modernizing the reactive power compensator, we ensure optimal and more energy-efficient operation of our production" says Kari Välimaa, Director of the Steel and Rolled Products Unit of Ovako Imatra.
"It is great to work with Ovako. They are a company committed to responsible and sustainable production. Responsible business includes taking care of existing equipment. It is not always necessary to buy completely new equipment. Modernizing equipment is a cost-effective option that also saves the customer time. The downtime is significantly shorter with modernization than with the installation of a completely new compensator. Our modernization project reflects both of our companies' commitment to innovation and environmental friendliness," says Markus Ovaskainen, Sales Director of Merus Power.
---